The Fishing Piers in Rockport, Texas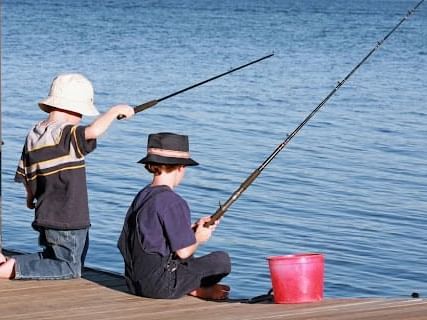 Rockport, Texas, is a prime destination if you're looking to fish during your vacation. Luckily, The Lighthouse Inn is just minutes away from some of the best places to fish in Rockport. Each fishing location offers beautiful scenery and some great catches. Plan a fun afternoon for your family or friends and head on out to the beautiful fishing piers of Rockport.
The Best Fishing Piers in Rockport, Texas
Below, you'll find the best fishing piers in Rockport. Each pier is easily accessible and unique, and of course, has plenty of fish for you to catch. Grab all of your gear and get ready to reel in some exciting catches and create memories that will last a lifetime!
Rockport Pier
The massive pier on the famous Rockport public beach is a great place to catch some fish. This is a popular fishing spot because the pier reaches out past the shoreline, where the trout, drum, and redfish are dominant. Public restrooms and picnic areas are easily accessible from the pier, so you can bring the family to fish, enjoy the beach, and have a picnic lunch!
Cove Harbor Marina
This marina has three different boat ramps that can be used for fishing. Head over to the marina before families start launching their boats or at night for some of the best fishing. Many of the docks and landings have artificial lights that attract baitfish and predatory fish, so you won't leave without reeling one in!
Fulton Pier
Before heading out the Fulton Pier, stop at the Fulton Harbor Bait and Seafood shop for fishing reports, advice, and fresh bait. Many days, the pier is nearly empty so that you can enjoy a "private" fishing experience! However, if it is busy, there is a lot of space for all anglers.
The private fishing pier at The Lighthouse Inn is right on the Inn's property, just a few steps away from your room. The 90-foot pier is the perfect place to relax and enjoy gorgeous water views, as well as terrific bay fishing.
After visiting a few of Rockford's fishing piers, unwind at The Lighthouse Inn! We have a great list of amenities for you and your group, including a complimentary buffet breakfast, outdoor pool and lounge area, waterfront rooms, and even rooms with full kitchens. Each of our deluxe guestrooms and spacious suites features a private balcony or patio to enjoy the pool, garden, and gorgeous bay views. We welcome our guests to indulge in the delicious food at our very own Palm Room Bar & Grill, open Monday through Saturday. You'll enjoy our variety of steaks, seafood, the catch of the day, and other gourmet entrees. View our special packages and book your reservation online, so that you can experience all that we have to offer at The Lighthouse Inn.